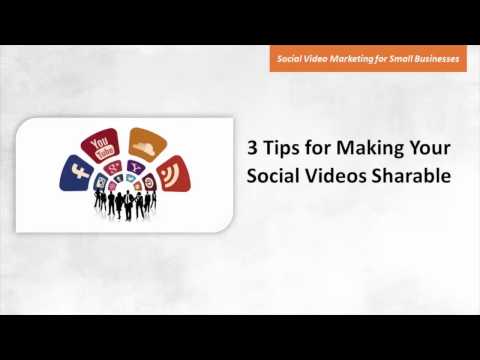 3 Tips for Making Your Social Videos Sharable

Struggling to get your social videos shared?
A lot of small businesses are surprised to find that video marketing is actually a lot harder than they thought it was going to be ñ particularly on social media.
You can't just create any old video, add it to your social media account and hope for the best. Instead, there are a wide range of factors you need to consider.
If you want to make your social videos more sharable, here are some tips to help:
1. Make them memorable
With literally millions of videos shared online these days, the key thing you need to focus on is making your video unique. It's not easy, but it's the one thing guaranteed to get your video shared by the masses.
The goal is to create a video consumers haven't seen before. If this isn't possible, at the very least you need to make sure it stands out from what has been done before.
Take inspiration from companies that have managed this such as insurance companies who have used talking animals in their videos. Anything that gives the video the wow factor is going to get your videos shared.
2. Stimulate emotions
Consumers are a lot more likely to share a video if it stimulates their emotions. Content that makes the viewer happy, sad or which contains adorable images for example, tends to encourage a lot more shares.
When trying to decide which emotion to target, keep in mind that positive emotions tend to result in a 40% increase in shares than negative ones.
3. Make them useful
The majority of popular videos shared on social media, are those which address common issues. If you provide useful information and help the viewer to solve a problem, they're going to share your video with others.
Research current issues and hot topics in your industry that you could produce an expert commentary on. Itís extremely important to make sure whatever advice you provide is related to the industry you work in.
Overall, getting your videos shared online can be a difficult and time consuming task. Video marketing takes a lot of effort, even on social media sites. Following the tips above will give you a much greater chance of getting your videos shared by the masses. However, you still need to ensure you're constantly marketing your videos too. Never expect viewers to come to you ñ work on bringing them in from as many sources as you can.
If you are interested in learning more about Video Marketing click here and contact eMobileLeads at 866-591-1825.